Do you have an ideal dream job?
A lot of people think that there are only two templates to living life - you either work your ass off from 9-5 every day, save up, and then finally retire at 60, or that you need to hustle, and start a business if you want to make money and be free.
That or become an influencer.
What if I told you that there was some middle ground, that you could work whenever and wherever you felt like but still have time to do all the things you wanted to live a fulfilling life.
As I type this, I'm sitting by the pool in the beautiful island paradise of Bali, where I'll be for the next few months, working a full-time remote job.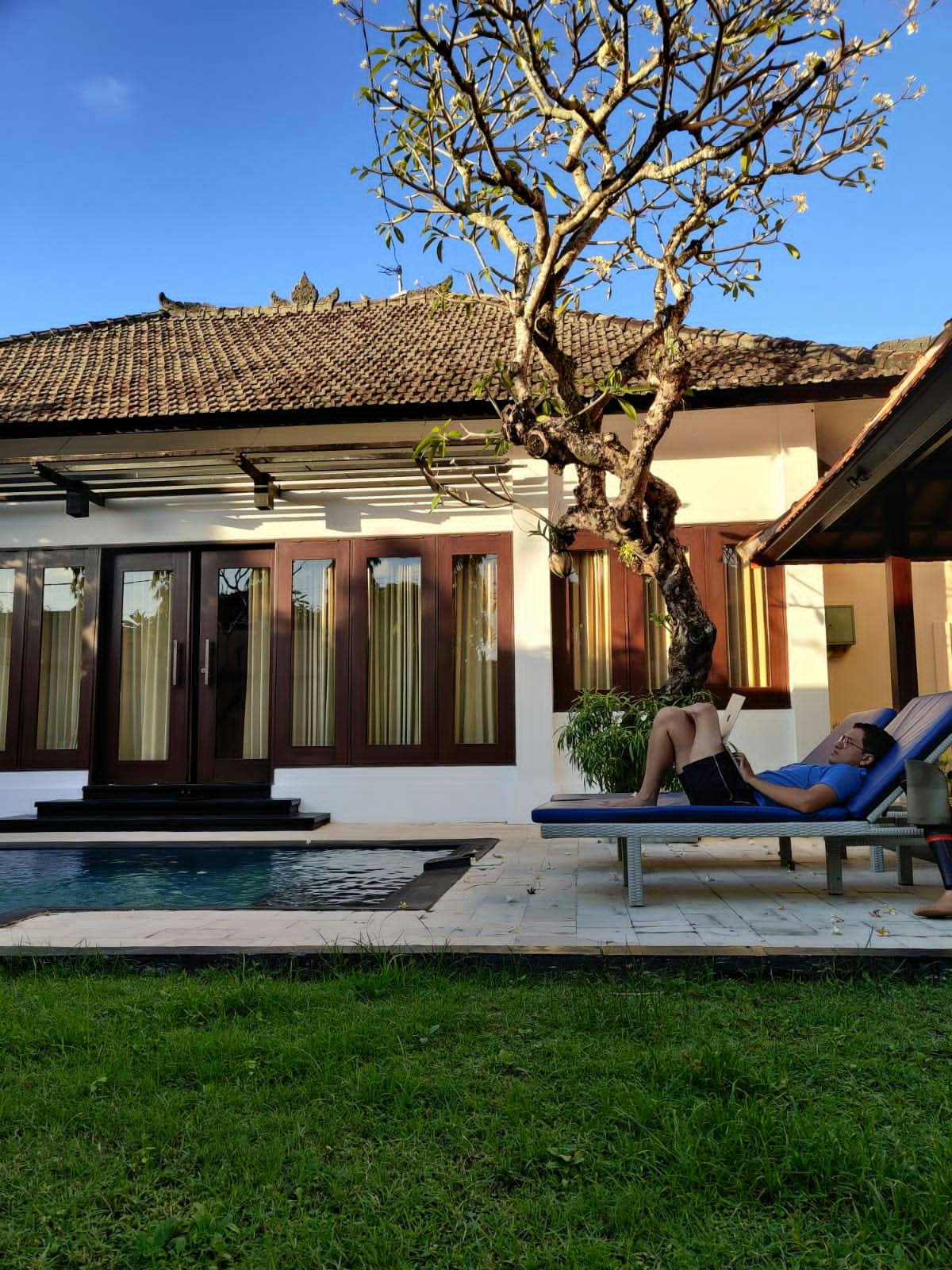 Felt cute, might delete later.
This is the essence of an ideal dream job, at least for me. Now I know that definition can vary from person to person, but I think some common factors are vital to a good life and since you're working pretty much your whole life, those factors translate to a good job as well.
There are 4 things you need an abundance of and control over to live a good life - time, money, health, and happiness and if your job forces you to sacrifice even one of those, then that isn't an ideal dream job.
And no you don't have to be a travel Instagrammer, TikTok influencer, or YouTuber to live this kind of life. You can do it with a full-time job. New age founders with previous work experience have slowly but surely started to figure out what it was that they lacked when they were part of the workforce and are trying to avoid the same mistakes. And you can learn and grow exponentially by working at companies like these that value your output, not by a measure of time but by organisational impact.
There are 4 things you need an abundance of and control over to live a good life - time, money, health, and happiness and if your job forces you to sacrifice even one of those, then that isn't an ideal dream job.
Do you know if your job is an ideal dream job? Read on to find out as we break down each of the 4 factors along with some green and red flags that you need to look out for to evaluate your job and see exactly what it is that you're compromising on.
⏰ Time
First off working at Remote, means it's a remote job. Sorry if the name gave that away. Which means working async. This means I can work at whatever time is most suited to me. That to me is a major flaw in 9-5s. What if your peak productivity is from 7-9 am and 4-6 pm? You're wasting valuable time getting mediocre work done. When doing a standard 9-5 more emphasis is placed on just getting something done for the day rather than the actual task that is to be completed.
You want your work to fit in with your life and not your life fit in with your work.
But with async work that's not the case, you work at times that are the most productive for you, you have full responsibility to plan out your work according to what works for you and you can prioritise your life over work as much as possible. You want your work to fit in with your life and not your life fit in with your work. And if it means having more time of the day for living your life rather than being stuck in a cubicle for 8 good hours of the day, then that to me is a better proposition for a great job.
If your company doesn't value your time then it's going to be hard for you to add value to your company.
🟢 Green Flags
You have flexible work hours and are trusted to manage your time because you're an adult.
You have unlimited time off and are regularly encouraged to take it.
(Sidenote: Unlimited time off is a double-edged sword. Make sure you use it properly and not feel guilty about not taking regular time off.)
🔴 Red Flags
You're expected to log your hours of work in some form or the other.
You are consistently being micro-managed and not trusted to get your work done.
Most of your day is wasted in poorly managed and unnecessary meetings.
💰 Money
Money is important, obviously, and don't let anyone else tell you otherwise. It may not be able to buy you happiness but I'd rather wipe my tears away with a fat wad of cash. If your job is not paying you enough to live a comfortable life, then it's time for a change. If you consistently showcase the value that you can offer but your company doesn't see that, you need to start looking elsewhere.
You usually get a good raise as you switch companies, but I've noticed that the best of the best don't care about how much you made in your previous gig but will offer you competitive salaries for the value you could potentially bring in.
Think about it, if the work that you did in shipping that new feature for your company brought them an increased revenue of $1 million for the year then why wouldn't they be willing to pay you $100k. If you can show that your work could give them a significant ROI on their investment in you, then a company will be willing to pay you the best to retain you. Look for companies that prioritise quality over quantity.
🟢 Green Flags
Your compensation reflects fair industry standards for your field and where you are geographically located based on your purchasing power.
You have regular performance reviews but also the possibility of a raise if you outperform all standards.
You have some form of stock options that give you more of an incentive since you could potentially own a stake in the company.
🔴 Red Flags
If you fail to get your salary on time, it's the mark of a company not being managed financially well.
Lack of transparency in the form of regular financial updates.
💪🏽 Health
Thanks to a flexible work schedule, I can go to the gym during the day, take a break when I feel under the weather, and cook healthy meals instead of ordering take-out all the time. As an effect, I am in the right mental and physical health to get a lot of work done. If you're constantly overworked and overwhelmed then you either need to upskill yourself to be able to get work done faster, or you're in the wrong job.
Your physical and mental health are two of the most important things you have to prioritise. Once you do this, everything else will magically fall into place. Your work life shouldn't hinder your progress towards staying fit.
🟢 Green Flags
You're encouraged to remain healthy both physically and mentally in the form of memberships and reimbursements.
The culture of the company and the people are such that they will put your health first over any work.
🔴 Red Flags
You're unable to make time for regular physical activity.
Your sleep is affected due to an overload of work and weird work timings.
You find yourself burnt out and unable to work more often than not.
😌 Happiness
And finally the most subjective of the lot, what does it mean to be happy? My favourite interpretation of happiness comes from Naval where he says true happiness is when you stop looking at the past or the future but by learning to find it in the present. Of course, that doesn't mean losing all ambition, it just means that you learn to be content and grateful for whatever you have wherever you are.
You can never always truly be happy but you can be happy more often than not. If your current job tends to compromise on the other factors that were mentioned, then you're obviously going to have lesser reasons to be happy.
For me right now, getting to work out of Bali makes me happy.
Having work that is just the right bit of challenge and is helping me grow makes me happy.
Going to the gym or learning a new skill makes me happy.
Being able to meet and interact with people from all over the world, and spending quality time with family and friends, makes me happy as hell.
Find out the little things that consistently bring you happiness and if you're forced to put those things after work, you need to reconsider your priorities.
🟢 Green Flags
You brag about your job to others because you genuinely love it.
You're easily able to disconnect from work once you're done for the day.
🔴 Red Flags
Work has started to feel very monotonous.
The thought of work or a Monday stresses you out.
Yes, a full-time job may not be the best option in the long run when it comes to job security and realising your full potential, but in today's internet age you can truly live a fulfilling life while working at a great job. It's also good for getting some experience under your belt when you're starting out and it's the best way to grow as a person.
The most important form of selfishness involves spending time on your fitness, eating right, pursuing your career, and still spending quality time with your family and friends. - Scott Adams (creator of Dilbert)
Be selfish when it comes to prioritising your needs, and find a job that lets you do that. Because once your needs are met, then you can focus on the needs of others and your output is going to skyrocket.